It's been 20 years since Singaporean actress Andrea De Cruz's furore with slimming pills, which left her with liver failure and almost death. You'd think that consumers today would be wary of products that promise quick and immediate fixes, but it seems not – many are still falling for countless weight loss scams that promise to speed up your metabolism and more, as confirmed by CNA1. 
One of these products even claims to be "15 times more effective" on stubborn fat, with "results guaranteed within one to five days". 
To a professional, these claims are obviously nonsensical. 
Even outside of consumables, the "get slim fast" scam pervading Singapore today has made its way through other facets, such as slimming massages, body wraps, steam treatments and vibrating belts alike. 
All these treatments promise instant results, but the only real thing they have in common is that they help lose water, which unlike fat, is promptly regained. If you're losing weight at a rapid pace without being on a hypocaloric diet, it's very likely that you're losing water weight instead of achieving actual weight loss, which comes from losing fat. 
Want to lose fat and slim down for the long-term? Here's the lowdown on what to look out for. 
The difference between fat loss and water loss
The human body is made up of about 60%2 water. Even fat cells contain roughly 10% water; suffice to say, water and hydration levels can greatly affect our body weight. 
When your body undergoes a state of dehydration (through activities like alcohol consumption, sweating, water fasts), your tissues, fat and intestines easily lose water. Hence, it is not uncommon to experience a drop in weight, a smaller waist circumference and even smaller fat bulges. 
Fun fact: did you know you can easily lose two pints' worth of water just from 15-20 minutes in the sauna? 
That's a whole lot of water weight – and something many slimming centres take advantage of to produce "instant weight loss" and "instant slimming effects". But this weight loss is gained back the minute you replenish your body with hydration, and can take as fast as 45 minutes3. 
The bottom line: Rapid weight loss and slimming effects from slimming treatments that cause dehydration are only temporary and not meant to be permanent. The only real way to lose fat is through a caloric deficit. 
Fat loss the real way
A calorie deficit occurs when you consume fewer calories than your body burns. 
How big of a deficit over a consistent period of time will determine how fast you lose weight; but in general a deficit of 200-500 calories is enough to accumulate steady fat loss without feeling hungry and lethargic all the time. 
All literature and clinical studies have proven that a caloric deficit is the only way to achieve meaningful long term weight loss. When trying to lose weight, you should always focus on fat loss or losing visceral fat (fat located within the gut and intestinal organs). This significantly influences the body to look more attractive and healthier. 
Do fat loss aesthetic treatments work?
Fat removal treatments focus on the removal or destruction of fat cells thus causing a reduction of fat or fat loss in the treated area. 
Yes, diet will have a big impact on the overall success of your slimming journey – but fat removal treatments can assist and even accelerate this process, provided the client is strict with their diet and exercise regime. 
For example, this 2012 study4 which evaluated long term fat loss in liposuction shows while the number of fat cells remained stable and low at treated areas, they actually increased in other areas of the body. In other words, fat redistribution is possible especially if current dietary and activity habits continue. 
So the gist is: Have your diet and exercise habits in place, and they will greatly enhance the aesthetic results of your fat loss treatments. 
Types of fat loss treatments in Singapore
Treatment

What it is

Liposuction

A surgical procedure that uses suction to remove fat from specific areas of the body, including the thighs, abdomen, hips and buttocks.

 

Agnes Fat Melt

A non-invasive procedure that utilises RF energy to destroy fat cells.

However, there is a limit to the amount of fat you can reduce each session to avoid over accumulation of heat that might damage adjacent tissues like the muscles.

Fat Freezing

Fat freezing, or cryolipolysis, uses cold temperatures to freeze and kill off fat cells. Good machines like CoolSculpt and Cristal Pro allow for effective fat removal and reduction without the need for surgery.

Fat freezing is a safe, non-invasive and comfortable procedure with minimal downtime that promises up to 30% fat reduction.

At Ozhean Zoey, we use Cristal Pro, which is the only fat freeze machine which allows up to four treatment areas, including smaller areas like the chin and underarms. It also comes with an ultrasound scan to show session to session reduction.

The only caveat is that in order for cryolipolysis to work, the treated area must have adequate fat (at least an inch).

Utilises medical ultrasound for lifting and tightening. With HIFU, temperatures may not be high enough to destroy fat cells but sufficient to stimulate heat shock proteins to cause fat contraction.

HIFU is only suitable for small areas like the face and double chin but will require multiple sessions.

Kybella Injections

These are injections that help to break down fat and. They work very well for small areas and produce distinct results, but carry a very noticeable downtime. They are also not approved for use in Singapore.
At Ozhean, to ensure that our clients are losing fat, we take before/after photos, do caliper tests and conduct scans.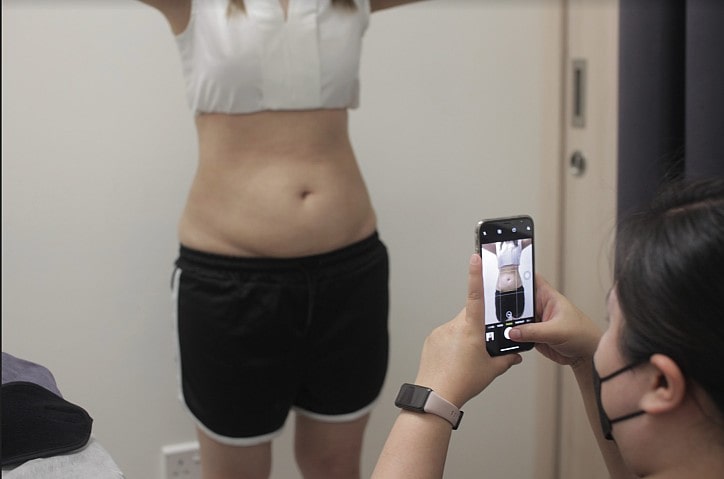 Our team deliberately chooses fat removal treatments that are centred around clinic research and medically proven results. Let us help you achieve and maintain your desired body!
About Dr. Park Ji-Youn
Dr. Park Ji-Youn is the founder and managing director of the Ozhean group. As a board certified dermatologist, she has published more than 30 scientific papers on dermatology, and is the creator of Ozhean's SKIN FIT program, which was conceived in 2015, and continues to successfully retain 80% of its original customers.
References