THE OZHEAN STORY BEGINS IN SINGAPORE
Part of the Ozhean clinic group from Korea, now in Singapore. We bring Korean dermatology and skincare to make you feel beautiful. 한국에서 온 뷰티 헤리티지 (Beauty heritage from Korea)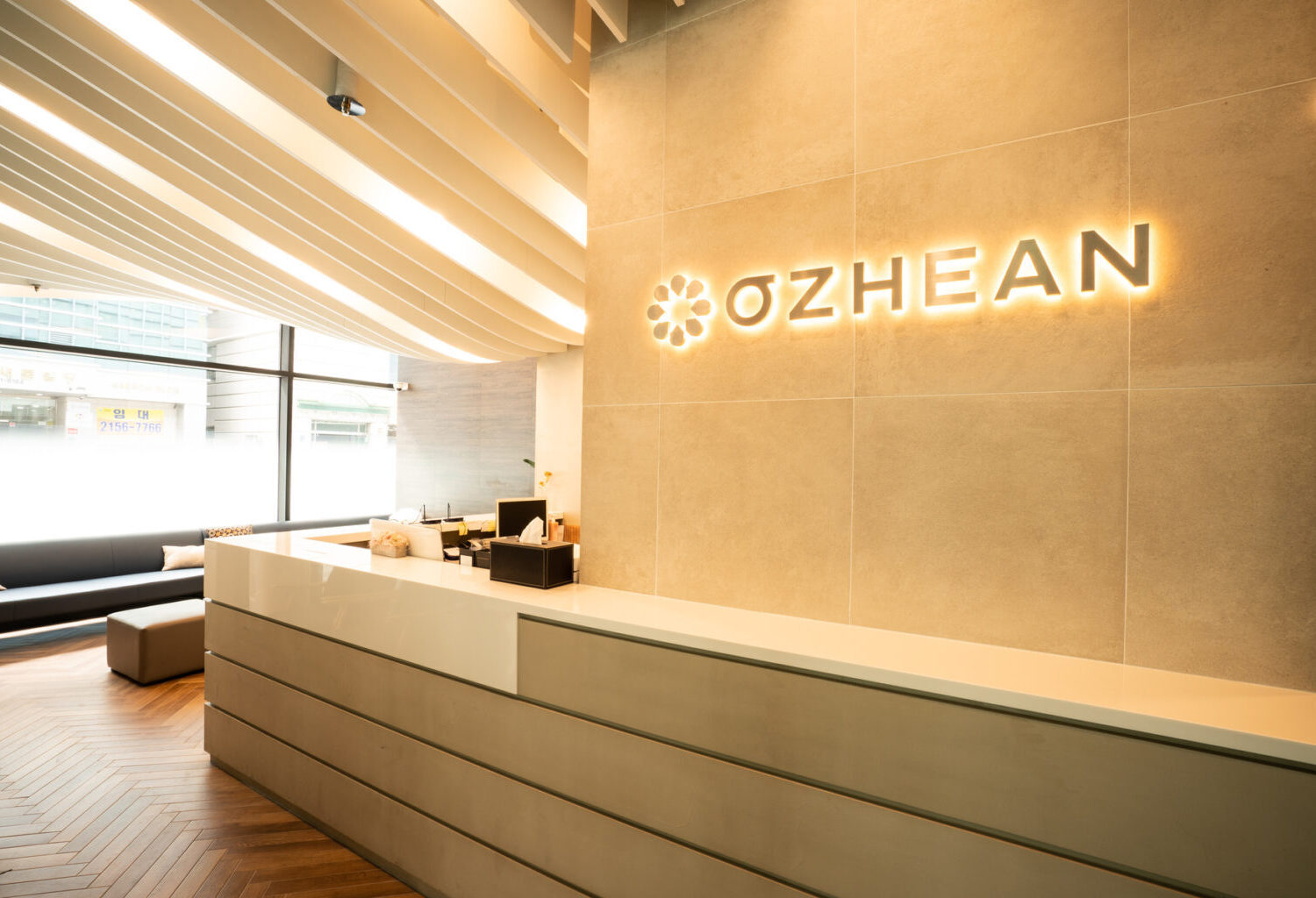 The Ozhean story first began in Gangnam, Seoul, in 2015 when their flagship Dermatology clinic opened in the heart of Gangnam. It was also during then that the skin FIT program was conceived. To date it has retained 80% of their customers and a high customer satisfaction rate.After just one year in 2016, the Gangnam clinic expanded to occupy 300 square meters in space. The increase in treatment rooms and waiting area space is to accommodate the sharp increase in demand of customer load.

Also in 2016, Ozhean's second dermatology clinic was opened in Bucheon. It occupies 230 square meters in space.

Ozhean's third dermatology clinic was opened in Suwon in that year too. It occupies 230 square meters in space.

In Mar 2018, Ozhean's fourth clinic, their very first plastic surgery clinic, was opened also in Gangnam, Seoul..

Also in 2018, Ozhean's fifth dermatology and plastic surgery clinic was opened in Yangju. This caters for the fast expanding demand for Ozhean's skin and plastic surgery program and treatments.

DR PARK JI-YOUN'S STORY
Founder, Managing Director of Ozhean Group
Dr Park Ji-Youn is the founder and Managing director of Ozhean group. She is a board certified dermatologist in Korea and have published more than 30 scientific papers on dermatology. She is also the founder of the ozhean skin and plastic surgery network, the creator and originator of the Ozhean's SKIN FIT program.
DR LEE YONGSEOK'S STORY
Director of Ozhean Group
Dr Lee is a board certified plastic surgeon in Korean and has written many papers published in plastic surgery journals.  He is also a celebrity plastic surgeon with many appearances in various media.

OZHEAN'S SKIN FIT PROGRAM
Since 2015, we have transformed 20,000 faces. We aim to continue to do so in Singapore. More than 80% of our skin program are repeat and satisfied customers. Many of our customers have achieved flawless poreless radiant skin through our program. It is our mission to transform lives one face at a time.Every skin has their own unique beauty and features. It is impossible to treat all skin in a singular way – with a single laser machine or protocol. In fact, with a single laser treatment, the results are not just incomplete but when excessive energy or excessive treatment sessions given, it can cause unnecessary skin complications such as PIH.

Our Mission & Vision
Our Mission
Ozhean Zoey's mission is simple: We transform lives one face at a time.
Our Vision
We believe that everyone can be beautifully confident in life. By delivering the strongest beauty results and patient experience, we aim to be the most Influential Aesthetic Brand in Singapore
Our Values
Solid Science
Each service and product is chosen based on solid clinical evidence and scientific principles.
Innovation
Innovation, self improvement, advancement is the core value of our company. Each day we aspire to grow more in knowledge, our skill set, the way we communicate, our service standards.
Clients First
We listen to our clients and we put their needs first.
Open Communication
We believe that open communication with customers and within the team is the key to success.
Teamwork
We succeed as a team, and not alone.