One of the most common statements I hear from patients when they seek treatment for cellulite is,
"Doc, I've already tried losing X amount of weight but still I have cellulite. Are you sure aesthetic treatments can help?"
If you are like one of them, no wonder you haven't seen any improvements with your cellulite. In fact, studies1 have found that weight loss actually worsens cellulite in certain individuals.
Now, don't get me wrong – I'm not saying you shouldn't lose weight (if you have to for your health, please do). But losing weight for the sole purpose of getting rid of cellulite is counterproductive and not the right way to go.
For the most part, excess fat does contribute to cellulite growth. However, the extent of how severe the cellulite is largely depends on our genetics – which explains why tons of skinny fat people get cellulite too.
I've written an article on how Secret RF can help with stretch marks. Allow me to now explain how Secret RF can help with cellulite removal.
What is cellulite?
Cellulite is the lumps and dimples that form on the skin. Some common terms coined for cellulite include: orange-peel skin, cottage-cheese skin, hail damage, and mattress phenomenon.
Cellulite affects both men and women but is much more extensive in women due to our proportions of fat, muscle and connective tissues. Up to 80-90% of women may experience cellulite2 at some point in their lives.
What causes cellulite?

Cellulite develops because of fat cells that bulge between the connective tissues that hold the muscles and the skin. Although anyone can have cellulite, including those who are lean or fit, it is way more common in women than in men. Common reasons for having cellulite include: 
Gender – being a woman significantly increases your risk of having cellulite

 

Being overweight

 

Smoking
Sedentary lifestyle

 

Poor blood circulation

 

Genetics

 

Hormonal conditions

 

Pregnancy

 

Weight fluctuation

 

Diet

 
What are the grades of cellulite?
There is a cellulite severity scale that ranks the condition of cellulite based on three grades. The table below explains these three grades. 
| | |
| --- | --- |
| Grade | Description |
| Grade 1 or mild  | "Orange-peel" appearance with between 1 to 4 superficial depressions and slight sagging. |
| Grade 2 or moderate  | "Cottage-cheese" appearance with between 5 to 9 medium-depth depressions and moderate sagging.  |
| Grade 3 or severe  | "Mattress" appearance with 10 or more deep depressions and severe draping and sagging of the skin.  |
How does Secret RF help with cellulite?

Radiofrequency (RF) energy is delivered by a Secret RF device tip deep into your skin to heat up the fatty layers underneath your skin. This helps to increase blood circulation and tighten the skin by stimulating the production of collagen, elastin and hyaluronic acid. It also causes the fatty deposits to drain out through your lymphatic system, thereby significantly reducing the appearance of cellulite caused by these fats.
How good is Secret RF for cellulite?

There are several studies that prove radiofrequency microneedling works brilliantly for cellulite, with the most noteworthy being: 
Two months after the second treatment, a patient's right thigh showed a

5-point improvement

from 14 points severity to 9 points severity, which shows highly significant results.3
Manuskiatti et al reported an average of

50% improvement in cellulite appearance

in 27 patients with Grade 2 or higher cellulite of the thighs, arms, buttocks and abdomen after a total of 8 RF treatments. There was also a decrease in abdomen and thigh circumference, with a mean reduction of 10.5% thickness of fat tissues4, suggesting RF's efficacy in fat reduction which also helps with cellulite.
Is Secret RF microneedling safe?

Secret RF is the only technology that uses gold-plated tips, while conventional methods only have gold-coated tips. Gold-plating is of higher quality than gold-coating. The result of this gold-plating is that Secret RF causes less damage on the skin, with less complications and is much less painful. With Secret RF, you'll find less discomfort with enhanced results. 
Read this article to find out more about the benefits of Secret RF over other microneedling devices. 
Secret RF microneedling is a very safe procedure that has been carried out with minimal side effects and minimal downtime. It is minimally invasive and generally safe for those who are in good overall health. 
However, it isn't safe for those using certain acne medications or for women who are pregnant. During the consultation, we will assess to see if you are suitable for Secret RF, so you can be assured that we will not proceed if we find any problems. 
During the entire process, the outer layer of your skin is continuously cooled so you do not have to worry about damaging your skin. When the treatment is done, you may resume your daily activities, but there may be temporary redness which should disappear after 24 hours.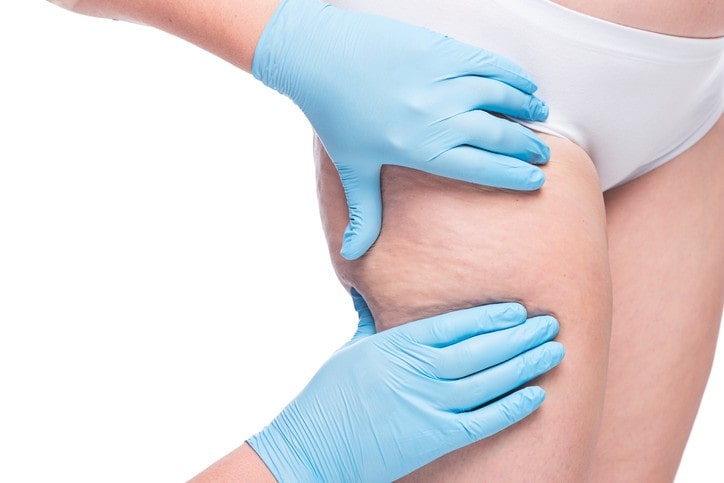 How many RF microneedling treatments do you need for cellulite?

The more consistent your treatment is, the better and quicker the results will be. For most patients, the ideal treatment frequency for Secret RF microneedling is once every 4 to 6 weeks. Consistent treatment will ensure that your skin continues to build collagen to reduce the appearance of cellulite. 
Over time, the body will begin to produce collagen and elastin, therefore, the patient will see continuous improvements after several weeks or months. Depending on the severity of the condition and other factors, most patients require about 5 to 8 cellulite reduction sessions to achieve ideal results. 
How long does cellulite reduction by Secret RF last?

The longevity of the RF microneedling results for cellulite may vary depending on the individual. However, most patients see that their results tend to last for up to 4 months or even longer before a maintenance session may be needed. 
During the consultation, your doctor will go through the severity of your condition with you and what results you can expect with the number of treatments that you are getting. This will give you a better understanding of your treatment and adjust your expectations accordingly.
About Dr. Park Ji-Youn
Dr. Park Ji-Youn is the founder and managing director of the Ozhean group. As a board certified dermatologist, she has published more than 30 scientific papers on dermatology, and is the creator of Ozhean's SKIN FIT program, which was conceived in 2015, and continues to successfully retain 80% of its original customers.
References
Smalls, L. K., Hicks, M., Passeretti, D., Gersin, K., Kitzmiller, W. J., Bakhsh, A., Wickett, R. R., Whitestone, J., & Visscher, M. O. (2006). Effect of weight loss on cellulite: gynoid lypodystrophy. Plastic and reconstructive surgery, 118(2), 510–516. https://doi.org/10.1097/01.prs.0000227629.94768.be
Luebberding, S., Krueger, N., & Sadick, N. S. (2015). Cellulite: an evidence-based review. American journal of clinical dermatology, 16(4), 243–256. https://doi.org/10.1007/s40257-015-0129-5
Yu, V., Juhász, M., & Mesinkovska, N. A. (2019). Subcutaneous Radiofrequency Microneedling for the Treatment of Thigh Skin Laxity Caused by Weight Loss: A Case Study. The Journal of clinical and aesthetic dermatology, 12(6), 60–62.

 

Alexiades-Armenakas, M., Newman, J., Willey, A., Kilmer, S., Goldberg, D., Garden, J., Berman, D., Stridde, B., Renton, B., Berube, D., & Hantash, B. M. (2013). Prospective multicenter clinical trial of a minimally invasive temperature-controlled bipolar fractional radiofrequency system for rhytid and laxity treatment. Dermatologic surgery: official publication for American Society for Dermatologic Surgery [et al.], 39(2), 263–273.

https://doi.org/10.1111/dsu.12065