Flat Nose Treatments Singapore
Nose augmentation treatments for flat and hooked noses are popular among the younger aesthetic patients in Singapore. Let's face it, having a beautifully shaped and defined nose, with a projected nose tip, are one of the vital attributes of facial beauty. That is because our eyes naturally fall on the central features of the face like the eyes, the nose, the lips and the chin and make quick judgments whether a face is attractive or not. Let us take a look at some common nose conditions that require a nose augmentation and enhancement.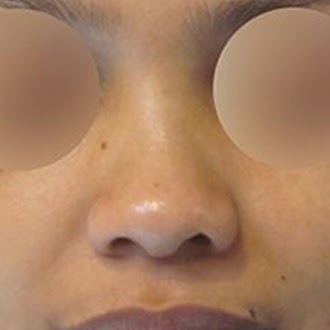 Flat Nose
Unlike our Caucasian friends, most Asian noses tend to be flatter at the nose bridge and nose tip. This is because we have a different facial bone structure and different extent and amount of nose cartilage. As a result of flat nose bridges, our eyes also look further than each other. Aesthetically, widely separated eyes are less attractive.
Flat nose bridges are common in Asian faces which is why nose augmentation is such a popular and common aesthetic treatment in Singapore.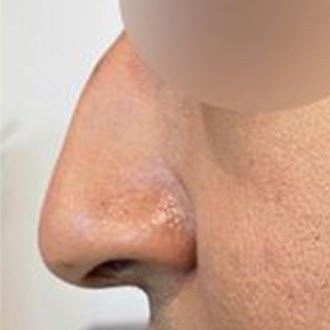 Hooked Nose
Hooked nose occurs when there is excessive curved bone at the nose bridge and inadequate and the nose tip pointing downwards (and no nostril show). Hooked noses are more commonly found in Caucasians and Indians.
Hooked noses can be easily corrected by adding nose threads to the nose tip to rotate the nose tip upwards. Alternatively it can be corrected with rhinoplasty surgery, where excess bone at the bridge is removed and the nose tip elevated.
Beautiful Nose Features
What are the features of a beautiful nose? Seasoned aesthetic doctors always have a strong mental image of the beautiful outcome they are sculpting. Let's talk a look at the various features of the nose they typically sculpt:
Prominent Nose Bridge
A prominent nose bridge defines the face, brings the eyes together and makes the eyes look more naturally wider. A naturally shaped nose bridge fans to the eyebrows. If this fanning is too wide, the nose may look unnatural. This might be caused by placing excessive soft fillers at the nose bridge. However, it seems that noses like this which shocks our aesthetic senses are gaining popularity on the internet.  
In addition, the height when this fanning begins is important.  For ladies this fanning should start at a line that is drawn from one medial canthus (inner corner of the eye) to another.  For men, this line can be higher.  
If the nose bridge extends too much to the forehead (fanning occurs above the aesthetic line), making the nose look too straight and unnatural.  This can occur if a nose implant was too stiff in material or placed too high.
Distinct Projected Nose Tip
The angle in which the nose tip is projected is important. If it points too upwards, the nostrils will show too much. If it is pointed downwards, the nose will appear hooked. Both appearances are not aesthetically pleasing.
WHAT IS FIT NOSE?
We all have different shaped noses.  Like our finger print, it's what give us identity and beauty. Although there is an ideal nose shape that is aesthetically pleasing to most eyes.  To have that same nose cut and pasted on every face will make them lose its racial and social identity.  
The nose must match the face.  Not the other way around.
In Ozhean Zoey, we will suggest an ideal nose bridge and nose tip that most suit you.
Fit Nose Treatments
Nose Fillers
An injection to sculpt the nose? 14 years ago when nose fillers were first introduced to the Singapore aesthetic market, it would seem to be good to be true. Afterall, back then, only surgery or rhinoplasty was the only means of nose augmentation. Nose fillers is a non-surgical nose augmentation with the injection of filler materials, the commonest being hyaluronic acid. It is suitable for patients who are not ready for surgery either because they cannot accept the surgical risks like scarring or the surgical costs. It is also suitable for noses that only need a mild to moderate augmentation of the nose bridge and a mild refinement of the nose tip. Surgery is still the treatment of choice for noses that has very flat nose bridges, depressed nose tips and large round alars (nostrils).
Since then nose fillers have gotten very popular especially among younger patients. However recently, its popularity has declined because of reports of eye blindness associated with nose fillers.
Benefits of Nose Fillers
Fast Office Procedure
Fast Office Procedure
Nose fillers is an office procedure, done in a clean room in a clinic. Under experienced hands, the procedure is usually done in 15 minutes or less. That is why when it was first introduced, it was known as a lunch time nose job.
Minimal recovery
Minimal recovery
There is minimal bruising, swelling and down-time associated with nose fillers, when it is done with experienced hands. The likelihood of bruising is lower if it is done with a blunt cannula.
Reversible
Reversible
Most clinics in Singapore will use reversible fillers such as hyaluronic acid. That means with the injection of a material called "hylase or hyaluronidase", the filler material will "dissolve" and be absorbed by the body. This reversibility means that unwanted results or complications caused by the nose fillers can be reversed.
Risks of Nose Fillers
Treatment Process
In Ozhean Zoey, we only perform nose fillers for the nose bridge and less commonly for the nose tip.  Nose bridge fillers are a safer area for filler injections compared to the nose tip.  This is because of the following reasons: there is a higher risk of complications for nose tip fillers and nose threading for the nose tip will yield a better and more sustainable result (see below) .  For nose fillers at the bridge, we will prefer to place the fillers deep at the bone (where there are minimal blood vessels) and significantly lower risk of vascular issues.  So far for the 1000s of procedures performed for nose bridge fillers we have no vascular complications.  
This is the treatment process for nose fillers:
Topical anaesthesia is applied for the nose until the surface skin is adequately anaesthetized
Markings of the midline of the nose are made.  It is also made where the fanning of the nose bridge begins. (to prevent an overly high nose bridge)
Nose fillers is performed, the fillers are carefully administered in the midline of the nose
Care is also taken to make regular smooth injections (to create a thin long bulge) so that the new nose bridge looks even, sharp but yet natural
Gentle compressions are made to sculpt the nose fillers into a more natural shape.
Our nose augmentation treatment of choice for the nose bridge is still the nose fillers.  For the nose tip it will be nose threading. We have a rich portfolio of nose augmentation cases to show, which our resident doctor will show you during the consultation.
Nose Filler Cost
Nose fillers cost ranges from $900 to $1300 depending on the choice of fillers. It best considered together with nose threads.
Nose Threading
Nose threads are becoming a more popular trend than nose fillers because its complications are relatively less serious. Nose threads are especially useful in sculpting, lifting and rotating the nose tip with the correct amount of nostril show. Nose threads also help to create a slim natural looking nose bridge. However, for flatter nose bridges, a combination with nose fillers will yield a far more satisfying result.
Nose threads should be done by a competent doctor. Poor techniques can cause avoidable complications such as thread extrusion, infection and scarring
Benefits of Nose Threading
Risks of Nose Fillers
Extrusion
Extrusion
When the nose threads are inadequately inserted, the ends of the threads may stick up the nose and become visible. Extrusions of the threads can also happen into the nostrils or in some cases out in the upper lip (frenulum). If this happens, the ends of the threads can be trimmed and this issue is treated. It is not advisable to ignore any threads that are sticking out for too long as there is a possibility of an infection which might develop. With proper thread insertion techniques, thread extrusion risks are usually very low.
Infection
Infection
Infection of nose threads is usually uncommon. The reason being is that the material for nose threads which is PDO( polydioxanone), PLLA (Poly-L-Lactic Acid)and PCL (Polycaprolactone) material are suture material commonly used for surgery and they have bacteriostatic properties. However infection can possibly still occur if there is an thread extrusion, usually left alone for an inordinate period of time (weeks) or acne or abcess infection on the nose skin which can potentially spread to the nose threads.
Recovery of nose threads
Recovery of nose threads
Typically nose threading has a good recovery. The nose may feel sore for one to two days but it is relieved with painkillers. Most of our nose thread patients do not have excessive nose swelling after nose threading, and that is usually caused by rough techniques and also excessive use of local anaesthesia. But in case swelling occurs, they respond very well with anti-swelling medication.H4 Treatment Process
The treatment process is as follows:
Marking of the mid-line of the nose and also point of insertion at the nose tip. (which will determine the rotation of the nose tip)
Local anaesthesia is injected. The procedure is quite comfortable after this.
The nose is cleaned with chlorhexidine.
Nose threading is then performed under sterile conditions.
Nose threads are inserted to build the nose bridge. If necessary fanning at the nose bridge is created.
Nose tip threads are inserted to project the nose tip to project it
The small insertion wound is sealed with a protective dressing that is skin coloured.
Nose Threading Cost
Nose threading costs start from $1500 depending on the number of threads and the type of threads chosen.
Nose Implants and Surgery
There will be some noses that are more suited for cosmetic surgery, particularly, very flat noses, bulbous nose tips or overtly round nostrils. These features are less likely to be corrected alone with nose threading.
Nose surgery or rhinoplasty also yield permanent results.
Ozhean's cosmetic surgeons has a wealth of experience that can help you achieve your desired nose shape. Do contact us if you want to find out more.
Benefits of Rhinoplasty
Benefits of RhinoplastyPermanent Result
Able to create a drastic result for the nose
Able to correct very flat nose bridges, bulbous nose tips and overtly round nostrils.
Risks
Surgical risks such as excessive scarring
Implant infection
Anesthesia risks
High costs
Treatment Process
Rhinoplasty in Singapore is typically done in an operating theatre because the implants need to be inserted in a clean and sterile environment. It is best to consult a cosmetic surgeon for the details of the surgery process.
Nose Implants Cost
To our understanding rhinoplasty in Singapore costs $10,000 or more depending on the complexity of the surgery. Costs in Singapore are higher even compared to Korea.